CEREC Esthetics in Prescott, AZ
Looking for a CEREC crowns dentist in the Prescott, AZ area? Do you need a crown but fear the possibility of returning again and again to secure a proper fit as you suffer through the discomfort of a temporary crown? Now you can schedule with Prescott Dental Arts, where Dr. Herbert, our Prescott Dentist, can build and fit a new CEREC crown for you in just one visit.
CEREC & Ceramic Reconstruction
CEREC stands for Chairside Economical Restoration of Esthetic Ceramics, also known as Ceramic Reconstruction. This is a new technology that allows a properly trained dentist, like Dr. Herbert, to fit and install a crown in one visit. The CEREC process removes the need to fit and wear a temporary crown while a lab creates the permanent model, saving the patient time and stress. Because the CEREC crown is made entirely from porcelain, and contains no metal, this type of crown can be more aesthetically pleasing than other dental solutions.
During the CEREC process, Dr. Herbert will photograph the affected tooth and uploads it as a three-dimensional digital model. Our software will then design the suitable crown using the uploaded images. At that point, our milling unit will construct the crown on-site. We'll then fit and apply the new, permanent crown to the patient's tooth with special dental cement that bonds the crown and tooth together. The timing of the procedure is very quick.
Benefits of CEREC Technology
Receive porcelain dental work in one visit: including ceramic fillings, onlays, crowns, no-prep veneers, bridges, implant crowns, and e.Max bridges
Metal-free. No metal shadows at the gum-line
Computer-Aided-Design, Computer-Aided-Manufacturing (CAD/CAM) provides a precise fit for dental work, which improves restoration longevity
Made with advanced porcelain strong enough to support bridgework
Will CEREC Work For You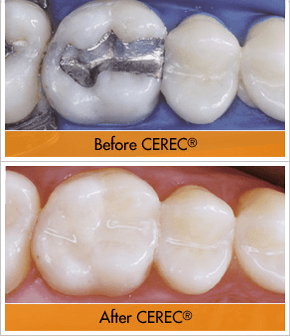 CEREC same day crowns is an advanced method of restoring chipped, cracked or discolored teeth dentists recommend for patients seeking full crowns without the delay associated with traditional crown restoration treatments. Using CAD/CAM technology, a CEREC-qualified dentist crafts durable, porcelain-based crowns within an hour and fits them over damaged teeth the same day they are made. Our Prescott dentist begins this procedure by thoroughly removing any decayed material on and around the tooth and then spraying the tooth with a safe, powdery agent that facilitates digital imaging of the tooth. A three-dimensional image of the tooth immediately appears on our computer monitor which allows us to begin designing a crown while you watch the process.
Prescott Dental Arts specializes in providing expert CEREC care to our Prescott patients seeking a one-visit crown. Patients who require care but cannot make a significant time investment for returning to the dentist or who find dental appointments stressful may find the CEREC option appealing. In addition, because old-style temporary crowns often feel uncomfortable during the two-week permanent crown construction period, CEREC can help our patients eliminate a significant amount of discomfort.
Although CEREC can be completed in one visit, the use of CEREC technology requires special training. As a result, choosing a Prescott dentist properly trained and experienced in this type of tooth restoration is essential. Prescott Dental Arts is proud to provide the CEREC service to our patients with the quality care they expect.
For our friends in Prescott, AZ, we offer quality care in a relaxed comfortable atmosphere. We invite you to contact our office to schedule an initial evaluation.
Call us at (928) 445-8980
Prescott Dental Arts
1787 Willow Creek Rd.
Prescott, AZ 86301
Request Your
Appointment Online
$125

EXAM, CLEANING & X-RAYS
Non-Insured, New Patient Coupon