Dental crowns and veneers are wonderful restorations that provide a patient with a way to restore teeth that may be cracked, chipped, decayed, broken or misaligned. Veneers and crowns have evolved over the years and now come in a variety of different materials, giving the patient many options. Fortunately for patients, many veneers and crowns are fabricated from materials that look and function like natural teeth. Knowing about the different materials veneers and crowns are made from will help a patient make the right choice that will look and function best for their smile.
FELDSPATHIC
Feldspathic is fabricated from a quartz type porcelain. The fabrication of a veneer or crown from this material requires the use of a wet brush and jar of porcelain powder to paint layers onto a model. The porcelain is then baked in a porcelain oven. Feldspathic porcelain crowns or veneers are natural looking and have been used by dentists for years. It is the standard porcelain material that offers a patient a very translucent look.
Learn more

Some pros & cons to crowns or veneers made from Feldspathic are:
PROS
it's easier to control the color of the porcelain

it's easier to match a patient's tooth color 

it looks like a natural tooth 
CONS
crowns or veneers can be difficult to make

hard to get a perfect fit

weakest porcelain used in the mouth.  Not good for heavy clenchers or grinders.

ZIRCONIA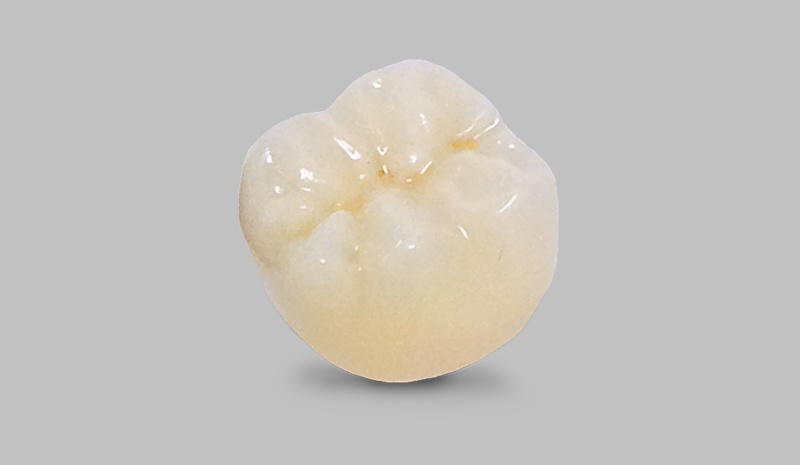 Zirconia is an extremely strong type of porcelain, which has become popular in dentistry.
Some pros & cons to crowns or veneers made from Zirconia are:
PROS
crowns don't show a visible line at the gumline

stronger than any of the other ceramic options

Zirconia's durability makes crowns able to withstand the constant use teeth take on, on a daily basis. 
CONS
Difficulty bonding Zirconia, so adhesive cement is routinely used…which requires more tooth reduction for adequate surface area, and higher risk of displacement than bonded porcelain.

zirconia crowns color can be hard to match a patient's tooth color

they have an opaque appearance

it can have a less natural look than other crowns

Highest wear and tear on opposing teeth. 

EMPRESS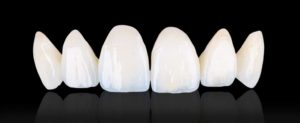 Empress is a glass ceramic crown, which differs slightly from other materials because it is more like glass than porcelain. 
Some pros & cons for Empress are: 
PROS
they are cast or milled, instead of baked like the Feldspathic crowns

the fit of empress crowns is more precise

they are very natural looking and wear like a natural tooth 
CONS
Less strength than e.Max or Zirconia, but stronger than Feldspathic.  Should not be used on molars or heavy load bearing teeth.
EMAX CROWNS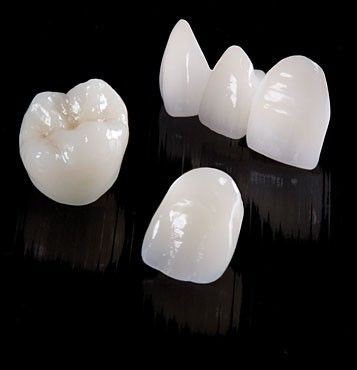 Emax crowns are made out of a lithium disilicate glass ceramic.

Learn More
Some pros & cons to this material include: 
PRO
is similar to natural enamel and wear similar to tooth enamel 

is strong enough to withstand daily biting and chewing and less likely to chip
CON
Weaker than Zirconia. Risk of fracture on second molars.

Less natural appearance.  Not the best choice for anterior teeth.
With all the crown & veneer materials available, it's important for patients to be properly informed before making a decision. It is a dentist's job to make sure each of their patients know what their options are when it comes to choosing the crown or veneer that's the best fit for them. When it's time to get a crown or veneer, seeing a dentist for an exam will be the first step. The dentist will evaluate the tooth or teeth and give the patient the best option for their mouth and smile.
Request Your
Appointment Online
$125

EXAM, CLEANING & X-RAYS
Non-Insured, New Patient Coupon