PRESCOTT ATLETHIC MOUTHGUARDS
Prescott Dental Arts offers Athletic Mouthguards for your active family members in Prescott, Arizona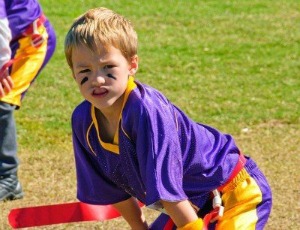 Many of our patients here in Prescott are very active in athletic and other vigorous physical activities. They are wise and don't engage in these activities without the proper protective gear, such as a helmet and pads; but most of them neglect a vitally important piece of safety equipment when gearing up, and that's a sport mouthguard. The American Dental Association recommends mouth protectors for anyone participating sports or other activities that pose the risk of injury or a fall, but it only takes a little common sense to know that an athletic mouthguard is necessary to fully protect your mouth during athletic and potentially injurious activities.
Protecting your Whole Mouth
Typically worn over the upper teeth, a custom sport mouthguard created by Prescott Dental Arts will protect your teeth from cracking, breaking or being completely dislodged if you experience a blow to the mouth or a hard fall. It will also help prevent cuts to the lips, tongue, cheeks, and gums.
More Than Mouth Protection
Some studies indicate that a sport mouthguard can help reduce the forces of a blow to the face or head, which may help prevent concussions. Sport mouthguards can also be designed to help keep your jaw in a normal position to reduce strain on your temporomandibular (TMJ) joints. A properly positioned jaw endures less stress during athletic activity, and this produces less stress on the rest of your body, which improves your strength, endurance and concentration.
ADA & ASD Advice
The American Dental Association and the Academy of Sports Dentistry recommend mouthguards for athletes who participate in:
Acrobatics
Field Hockey
Racquetball
Squash
Bandi
Football
Rugby
Surfing
Baseball
Gymnastics
Shot Put
Volleyball
Basketball
Handball
Skateboarding

Water Polo
Bicycling
Ice Hockey
Skiing
Weightlifting
Boxing
Inline Skating
Skydiving
Wrestling
Equestrian Events
Lacrosse
Soccer
Field Events
Martial Arts
Softball
Request Your
Appointment Online
$125

EXAM, CLEANING & X-RAYS
Non-Insured, New Patient Coupon