Prescott – Dental Implant Bridges
Prescott Dental Arts provides outstanding Dental Implant Bridges for the Prescott Valley region
There are several options to consider. To discuss which of the options below is right for you, schedule a consultation with Dr. David Herbert today!
Removable, the Best Option
When considering implant bridge options, a patient must first decide whether to proceed with a removable or a non-removable prosthesis. A removable prosthesis is the best option for the cleansability and long-term health of dental implant treatment. The primary cause of implant failure is gum disease around poorly cleansed implants. Therefore at Prescott Dental Arts, we recommend all patients considering dental implants to proceed with a removable prosthesis.
If you are one who cannot tolerate removing your prosthesis each night, there are fixed options available, which can be kept clean with additional effort. Also note that fixed options require a larger overall investment in finances, time at the dental office, and time with home care.
Acrylic Upper Bridge (Removable)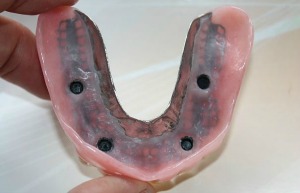 This removable bridge uses acrylic fused to a cast metal substructure for additional strength. Added strength allows us to remove 75% of the palate, and it reduces the risk of acrylic breakage that we see with dentures. Four dental implants with snaps are needed for adequate retention.
Patients at Prescott Dental Arts usually choose this option when they either don't have an existing prosthesis for teeth replacement, or when they would like to economically upgrade from a denture to something with less palatal coverage.
The Marius Bridge (Removable)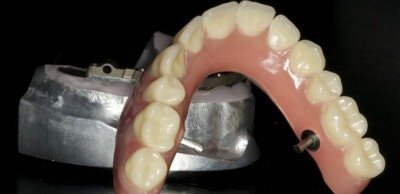 For those seeking the absolute best removable option for dental implant treatment, Prescott Dental Arts is one of the few in Arizona to offer the Marius Bridge. This prosthesis uses a custom fabricated bar that attaches to the implants and has connecting tubes where pins in the acrylic bridge interlock. A patient simply removes the bridge by pushing out the locking pins and separating the bridge from the custom bar. The gums around the implants are then exposed for ease of cleaning at home. Another advantage includes 95% palate removal to allow our patients in Prescott, AZ to better feel and taste the food they love.
Acrylic Bridge (Non-Removable)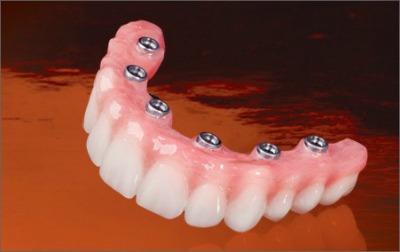 Need something to stay fixed in the mouth? This acrylic bridge is known as the "All-on-Four" or "Fixed Hybrid" and is most commonly the end product of "Teeth in a Day" treatment. It uses a custom-made titanium bar that is embedded within the acrylic prosthesis and fixes it to your implants with screws that can later be removed by your dentist at cleanings.
The prosthesis was first made to fit on only four implants, but it is now commonly used with six or more implants to account for risk of implant failure. If an implant is lost under a bridge held by four implants, the bridge would no longer be stable and treatment would need to be restarted.
Also, this option requires more effort at home for cleansing and expense at the dental office for maintenance. Prescott Dental Arts recommends acrylic where others may use porcelain, because acrylic is easily repaired and wears overtime to adapt to your biting patterns. With strength added from a titanium bar, 95% of the palate may be removed with the final result being a much more natural feeling set of new teeth.
Porcelain Bridge (Non-Removable)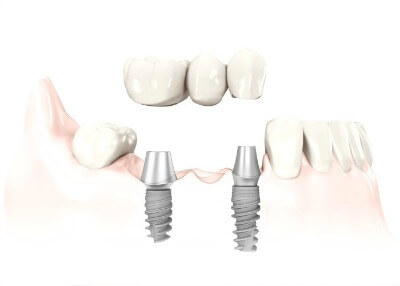 Prescott Dental Arts also offers implant porcelain bridgework, which treatment may restore a gap with three missing teeth or may restore a full mouth. After the body has adequately healed from the implant placement procedure, custom abutments are made and attached to the implants, which allow a bridge with natural contours to be cemented.
Porcelain bridges offer the most lifelike restorations and have 100% palate reduction when comparing acrylic options. They are easier to keep clean than a fixed acrylic bridge, and they offer the highest restoration of functional chewing forces.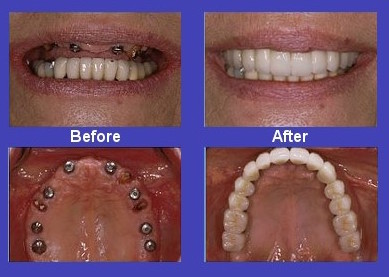 For our patients in Prescott, AZ, Implant Bridges are the best option to restore any function and aesthetics lost by missing teeth. We invite you to contact our office to schedule an initial consultation.
Call us at (928) 445-8980
Prescott Dental Arts
1787 Willow Creek Rd.
Prescott, AZ 86301
Request Your Appointment Online
$125
EXAM, CLEANING & X-RAYS
Non-Insured, New Patient Coupon