Dental Braces in Prescott AZ
If you have crooked teeth, misaligned bite, under bite or overbite, dental braces may the right solution to help straighten your teeth. At Prescott Dental Arts, we will take x-rays, pictures and impressions of your teeth, which will be used to create digital 3D models. These images of your teeth will provide an exact treatment plan, including the precise movements of your teeth, and will display the approximate length of treatment. Dr. Herbert will perform a clinical exam to discuss the dental options and help determine the best choice for you.
If braces are your top choice, Dr. Herbert will prescribe an application specifically to your correction needs. Some solutions of braces may consist of bands, wires, and other fixed or removable corrective appliances. We also provide clear braces as a leading edge solution, in which Dr. Herbert will cover the benefits of each. You can learn more about our clear braces options by clicking here.
Benefits of Braces
In their entirety, braces work by applying continuous pressure over a period of time to slowly move your teeth in a specific direction. As the teeth move, the tooth also changes shape as pressure is applied.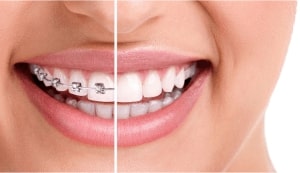 Braces are made up of brackets are the small squares that are bonded directly to the front of each tooth with a special dental bonding agent or are attached to orthodontic bands. Brackets act like handles, holding the arch wires that move the teeth. There are several types of brackets, including stainless steel and tooth-colored ceramic or plastic, which are often selected because they're less obvious. Occasionally, brackets are cemented to the back of teeth, in order to hide them from view. Orthodontic bands are stainless steel, clear, or tooth-colored materials that are cemented with dental bonding agents or cement to teeth. They wrap around each tooth to provide an anchor for the brackets. The clear or tooth-colored bands are more cosmetically appealing options and are higher in cost than stainless steel. They are not used in all patients. Some people have only brackets and no bands.
There are also newer mini-braces, which are much smaller than traditional braces, these may be an option for some patients. Dr. Herbert will discuss the various types of braces with you and determine which might be the best option for your correction and dental health.
Does the Age Affect the Success of Braces?
The functional process used to reposition your teeth with braces is the same at any age. The benefits of these treatments are available to both children and adults who wish to improve their appearance and bite. The main differences between treatments in adults and children is that certain corrections in adults may require more than braces alone and the treatments may take longer as adult bones are no longer growing.
Achieve That Perfect Smile!
At Prescott Dental Arts, we are focused to help you accomplish the exact results you are looking for. With our braces treatments, you can begin to correct your teeth and smile with confidence and comfort. Contact us at Prescott Dentals Arts and your Prescott dentist, Dr. David Herbert, to schedule a consultation so you can learn more about the available solutions to achieve that perfect smile!
Request Your
Appointment Online
$125

EXAM, CLEANING & X-RAYS
Non-Insured, New Patient Coupon