Prescott Dental Arts – Zirconia Dental Implants
Prescott Dental Arts provides excellent Dental Implants for the Prescott Valley region.
Dental Implants over the years have helped improve patients smiles in many ways. In the past patients were given the option to use metal or titanium implants, now with the creation of all ceramic or zirconia implants, patients have different options to choose from. The first dental implants were fabricated in the 1980s and contained two parts. These two parts consisted of a titanium implant, surgically placed into the bone and a titanium abutment attached to the implant post. The exciting improvement made to implants recently is the implementation of ceramic or zirconia materials. The CeraRoot full ceramic implant (fixture and abutment in one body/part) was introduced in 2005 into the European market and accepted by the FDA to be used in the U.S in 2011. These ceramics or zirconia implants are one complete piece as opposed to the titanium two piece implants. The one-piece zirconia implant is more beneficial for the patient because it has no prosthetic connections, creating an environment for healthier gums, because there are no connecting areas where bacteria can develop.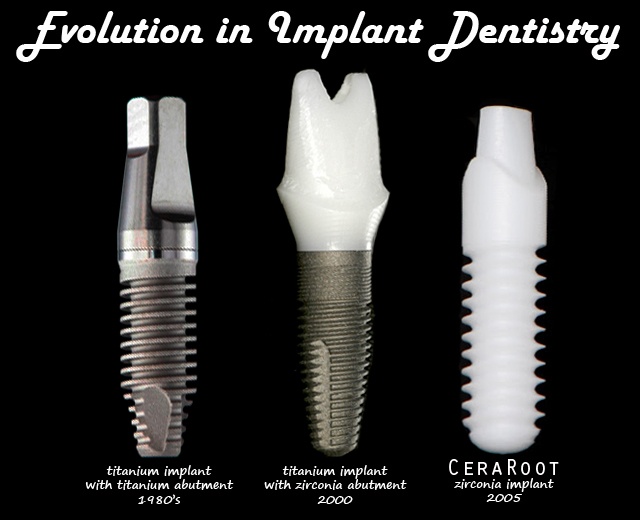 Other benefits to zirconia implants is that the implants are 100% white, are hypoallergenic, and do not corrode. Having an all white implant is beneficial in the fact that it blends better under the gums and becomes almost invisible. The completely white implant helps create a fully natural look in the mouth by blending naturally under the gums like natural teeth. Titanium implants are less natural looking because the metallic color has a possibly of showing through the gums.
Implants made from the zirconia material are beneficial because they do not corrode like titanium ones. Titanium is a metal and it can suffer from corrosion. Corrosion is the gradual deterioration a metal undergoes as a result of electrochemical attack. Corrosion is the process of interaction between a solid material and its chemical environment. This interaction leads to a loss of substance from material, a change in its structural characteristics, or loss of structural integrity. Titanium is a metal, and releases particles through corrosion. These metals become ions in the body and bind to body proteins. This can cause a reaction and the body will try to attack this structure. This can eventually lead to many symptoms including Chronic Fatigue Syndrome. Factors that can influence corrosion are quantity and quality of saliva, plaque, temperature, pH, protein, the chemical and physical properties of food and liquids, and also oral health conditions. Many have researched and reported increased concentrations of local and systemic trace metal in association with metal implants.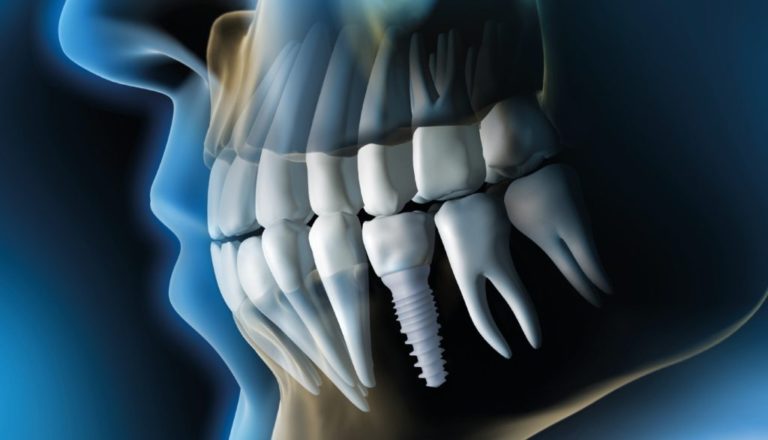 Zirconia implants are hypoallergenic and they will not cause sensitivity or allergies in patients, making them safer than titanium implants. Our immune system does not react to zirconia, making zirconia implants a great alternative to titanium implants. This makes zirconia a better choice for people who have autoimmune disorders, who suffer from metal allergies or who simply prefer not to have metal placed in their bodies. Patients with an allergy to titanium can have multiple symptoms, such as skin rashes, muscle pain and fatigue.
Zirconia may not always be the best option. Consult with our doctor to see if they are a good fit for you. Conventional Titanium implants are stronger and less likely to fracture. Titanium also has narrower options for areas of bone loss, which allows for less need of bone grafting. Screw-retained prosthetics for Titanium implants eliminate the harmful effects of excess cement around the implant, as seen with one-piece implants.
Dental implants are a wonderful and more natural looking way for patients to replace missing teeth. Now with the creation of an all ceramic or zirconia implant patients have more options and can choose the implant that is the healthier choice for them.
Request Your
Appointment Online
$125

EXAM, CLEANING & X-RAYS
Non-Insured, New Patient Coupon