Dental Emergency – Prescott Dental Arts
Emergency Dentistry in Prescott AZ
If you experience a dental emergency, be sure to call our Prescott dental practice as soon as possible. In an extreme emergency, you should go to a hospital emergency room.
At Prescott Dental Arts, we are here to help you at any time. When your dental health is at risk, we'll do everything we can to make sure you're treated as soon as possible. While dental emergencies are rare, they do happen, and it's important to know how to take care of your teeth no matter what. Common dental emergencies include:
Severe toothache
Broken or cracked tooth/teeth
Permanent tooth knocked out
Object caught between teeth
In dentistry–just like any other branch of medicine–there are routine visits, planned procedures, and sudden emergencies. If you have a dental emergency in the Prescott, AZ area you should consider treatment immediately. This will give you a higher chance of saving your tooth. If you wait too long, your tooth may become further damaged and need additional treatment.
Dental Emergency Precautions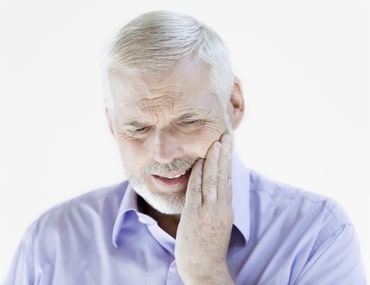 A dental emergency can happen at any time and taking certain precautions can increase the probability of recovery.
When a tooth is knocked out, it's very important to come to Prescott Dental Arts immediately to be treated by Dr. Herbert. If you arrive within 30 minutes of the dental emergency, the possibility of saving the tooth is very high. It is also important to not scrub or clean the tooth that has fallen out. Do not touch the root of the tooth, only the crown. You may rinse it with saliva, milk, or salt water and place it back in the socket. Hold it in place until you arrive to our Prescott office.
If you chip or fracture a tooth, visit Prescott Dental Arts as soon as possible. This will decrease the risk of infection and the loss of the tooth. If you're bleeding, do not apply pressure to that same tooth. Only apply pressure with a clean cloth over your gums. Rinse your mouth with warm water and apply a cold bandage over the surrounding gums, not the tooth, to reduce swelling. If you find the piece of tooth that has been chipped off, rinse it with saliva, milk, or salt water and bring it with you to our office. If you visit us right away, there's a greater chance of reattaching the piece of tooth.
Time is crucial for saving your teeth in a dental emergency. Come to Prescott Dental Arts immediately. Our professional staff will treat you with the utmost care to make your emergency process as smooth as possible!
We encourage you to visit our Hours & Location page for more details about our Prescott dental office, contact info, and physical address. You can also download our free mobile app for immediate contact, including direct one-click GPS directions to our Prescott office. Please don't delay for any dental emergency!
From your mobile phone, click here to download our mobile app or scan the QR code below.

Request Your
Appointment Online
$125

EXAM, CLEANING & X-RAYS
Non-Insured, New Patient Coupon