Prescott Arizona

The Place That Makes You Feel At Home
The worldwide spread of the covid 19 virus has driven everybody towards the safety of their home. Our home has become a safe haven, eradicating the virus out of top of mind.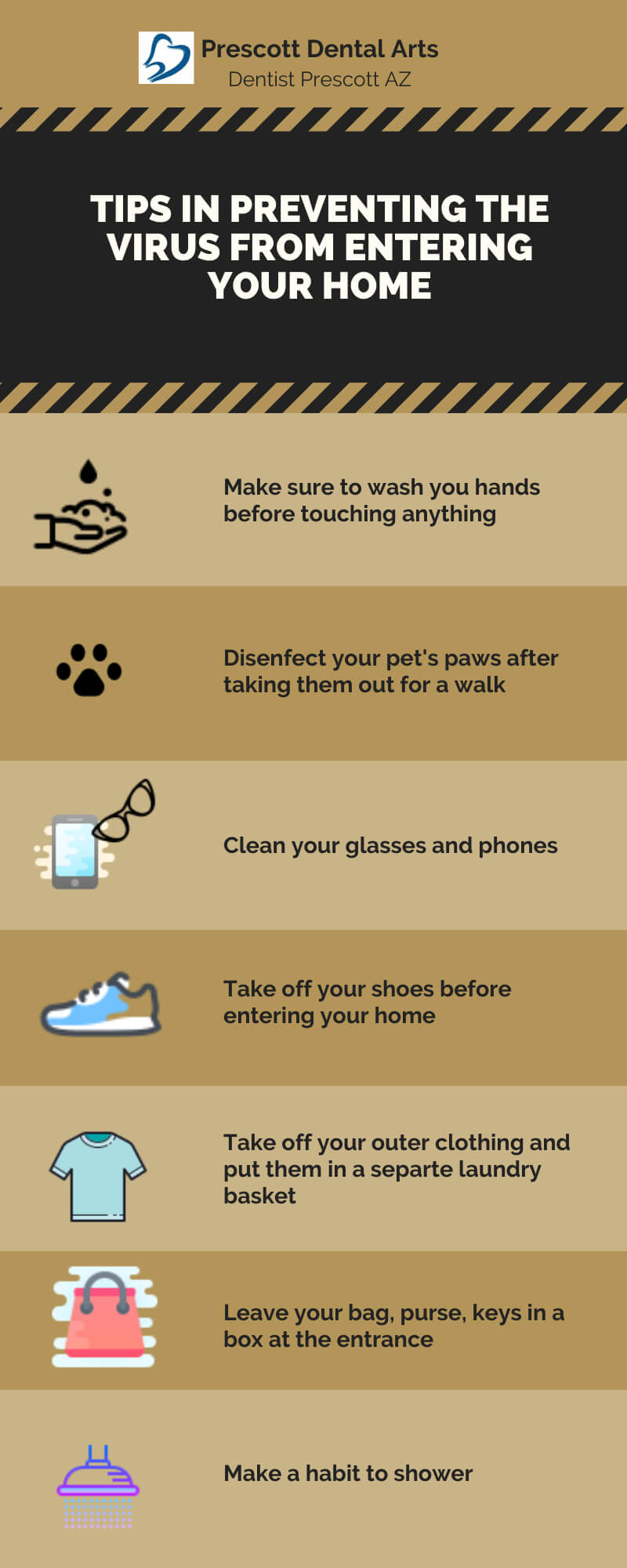 Prescott Dental Arts is deeply concerned for the health and well-being of our patients and the dental team. We appeal to continue to practice good hygiene, social distancing, avoiding social gatherings of 10 or more, avoid discretionary travel, shopping trips and social visits.
As part of our community responsibility, we Dr. David Herbert DDS a dentist in Prescott AZ, Prescott Dental Arts team implemented several COVID-19 policies in an effort to keep patients healthy.
The Arizona Poison and Drug Information Center is available to answer questions about COVID-19 at 844-542-8201. Arizona providers can call for testing and patient guidance. The general public can call for information about testing, isolation and quarantine.
Interesting Facts About Prescott, Arizona
Prescott Arizona has a wonderful motto that should make everyone want to visit or live in this beautiful city. The motto "Welcome to everyone's hometown" describes exactly what Prescott stands for. Whether you live in Prescott Arizona or just want to visit, while here, there as many fun places to enjoy. Below are some places to explore while out and about in Prescott Arizona. 
First of all, Prescott has a history that includes many famous old west heroes. 
One of the most famous men of the old West was Wyatt Earp. His brother, Virgil Earp, actually lived in Prescott in 1879. 

Doc Holliday, Wyatt Earp's friend and famous gunslinger himself, was also rumored to have spent some time in Prescott. 
The spirit of the old west continues in Prescott with the Prescott Frontier Days which is the world's oldest rodeo. This rodeo has been a part of Prescott since 1888 and continues today.
The rodeo has entertaining events that include,
barrel racing

team roping

bull riding

rodeo clowns and much much more. 
The festivities also include a dance and other activities that the whole family will enjoy. Prescott has held onto its rich history with the continuation of its rodeo and with the preservation of many of its historic buildings. These buildings have been kept and restored and show off the beautiful architecture of that time period. 
Whiskey Row is the best known area where most of the old buildings, saloons and hotels still stand. Taking a walk down Whiskey Row will take everyone back in time and remind all of Prescott's wonderful history.
There is more to Prescott, Arizona than it's old west history. There are beautiful natural attractions that everyone can enjoy. The wonderful weather here allows for getting out in nature all year round.
Prescott has several lakes where visitors there can enjoy activities like, 
Fishing

Boating

Kayaking 

Canoeing
Some of the beautiful lakes of Prescott are,
Watson Lake, 

Willlow Lake

Goldwater Lake.
If you aren't wanting to get into the water Prescott also offers many parks and trails that are perfect for anyone wanting to get out for a walk, bike ride, camping, horseback ride or hike among nature. 
Some places to visit are 
Prescott National Forest

Constellation Trails

Granite Mountain Trail

Thumb Butte Trail 33
These beautiful trails and parks offer a perfect place for anyone wanting to do some nature watching or just wanting to relax. 
For the person wanting to stay in town and enjoy some local arts, sites, and sounds Prescott has you covered. There are several places to visit like the,
Elks Opera House Theatre Arts

Prescott Cooperative Gallery 

Prescott Center for the Arts. 
The art galleries show off the talent of local artists with a wide variety of different arts like photography, painting, sculpture, pottery, basket weaving, jewelry and glass art. The Elks Opera House also has a wide variety of different entertaining music, comedy shows, musicals and much more. 
If you are curious about the many different and unique activities that Prescott Arizona provides, Prescott Dental Arts is here to get you informed. We are a proud member of the Prescott, AZ community for a while and love calling it home. Keep up to date with our community page and blog to learn more about the Prescott, AZ community. You can visit us or you can call to talk to our knowledgeable and friendly team. Not only do we provide advanced dental care, we can also share with our patients all the great sites and sounds of "Everyone's Hometown." We are here to help with all of your dental needs!
Request Your
Appointment Online
$125

EXAM, CLEANING & X-RAYS
Non-Insured, New Patient Coupon