Should you replace your Amalgam Fillings with White Composite Fillings?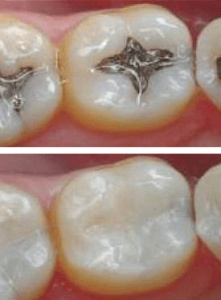 A lot of us as kids didn't have the best oral hygiene and had to have several fillings placed because of decay. When those fillings were placed the dentist usually used amalgam fillings. Now as adults we notice that when we open our mouth those amalgam fillings are very dark and easily seen. You may wonder if you can replace those fillings with white composite fillings. Replacing amalgam fillings with white composite fillings can be done and there are several reasons why doing so may be your best option. 
Some reasons why a person may want to replace those dark colored amalgam fillings include:
The amalgam fillings are starting to show decay 

The amalgam filling is becoming loose

The amalgam filling is starting to wear down

Amalgam fillings can cause teeth to chip or fracture

Amalgam fillings are dark and easily seen

WHAT ARE WHITE COMPOSITE FILLINGS AND WHY ARE THEY BENEFICIAL?
When trying to decide if changing out your amalgam fillings for white composite fillings is best for you, it's important to know first what white composite fillings are. White composite fillings are tooth-colored fillings. They are made from ceramic and acrylic and are matched to the color of your teeth so that they blend better with your tooth enamel.
Composite fillings are beneficial because they look like your natural tooth and become virtually invisible, especially when you smile. Not only are they beneficial in how they look, they also are beneficial because they require less enamel removal when placed in the tooth. When preparing the tooth for a filling, decay is removed then some of the tooth's enamel is removed to maintain the filling. With white composite fillings less enamel removal is needed to place the filling because they are bonded to the tooth instead of packed into the tooth like amalgam fillings. 
This process allows you to maintain as much of your tooth structure as possible keeping the tooth strong and able to avoid fractures in the future. Replacing amalgam fillings with white composite fillings is beneficial because they cause less sensitivity than amalgam fillings, look more natural, are less likely to cause fractures and are very strong and durable. 
If you are thinking about replacing your amalgam fillings with white composite fillings Prescott Dental Arts is here to help. There are many benefits to replacing old amalgam fillings with white composite fillings. To see if this is the best option for you, make an appointment with our office to discuss those options with our experienced team. Dr. David Herbert will consult with you and answer any questions you may have. To get started call Prescott Dental Arts at (928)445-8980 for a consultation. Or visit us at 1787 Willow Creek Rd Prescott, AZ 86301.
Call us at (928) 445-8980
Prescott Dental Arts
1787 Willow Creek Rd.
Prescott, AZ 86301
Request Your
Appointment Online
$125

EXAM, CLEANING & X-RAYS
Non-Insured, New Patient Coupon